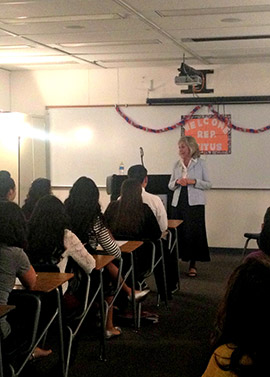 As a professor at the University of Nevada, Las Vegas for 34 years, I have had the honor to teach some of the best and brightest of our state and the opportunity to see first-hand their success. During my tenure, college tuition skyrocketed 1,120%, forcing many promising students to drop out because they could no longer afford the cost of an education. 
To continue being the leader of the global economy, we must solve this problem. Higher education is vital to the success of our nation's young adults; and in order to attract good jobs of tomorrow to Nevada, we must have an educated workforce that is prepared to get the job done. That is why I have continued to fight on behalf of Nevada's students to keep interest rates low so they don't have to choose between their educational aspirations and financial realities.
If you are interested in applying for federal student tuition assistance, I encourage you to visit the webpages below to learn more about how the federal government can assist you in securing funding for your college education:
 
The Basics: Getting Started
Good Overviews: 
Information for Parents: Save money long before your child attends college.
Beware of Scholarship Scams: Don't Pay for Free Information!
Student Aid and Where it Comes From
Federal Student Aid:
Free information from the United States Department of Education:
Loans:  These are the most common form of federal aid and must be repaid when you graduate or leave college.
Stafford Loans (FFELs and Direct Loans) include:
Scholarships/grants: Primarily need-based and require no repayment.
"Congressional" scholarships:
Merit-based and highly competitive
Members of Congress do not play a role in selecting recipients

Work study programs:  These programs allow students to earn money while in school.
Aid from Individual Colleges and Universities 
Check university Web sites and the institutions' financial aid office when you apply for admission.
Scholarships from Private Foundations and Organizations  
Targeted aid for special groups
Repaying your loans
After college, the federal government has ways to
help you repay your loans
. Eligibility depends upon the type of loan, when it was made, and whether it's in default. Check with your loan officer to find out if you qualify.
Loan Consolidation: combine your federal loans into a single loan with one monthly payment.

There are multiple repayment plans including plans that take into account your current income. Sometimes loans may be canceled in exchange for public service, especially in underserved areas. To see if you qualify, visit the websites below.